Bingo, Ships: Hamell On Trial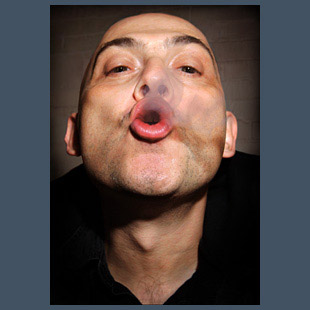 If you don't think this is sexy, you don't like rock 'n' roll.

Only the latest completely new and realized force to kick my ass since who knows, Hamell On Trial is a little-known folk/punk singer named Ed Hamell who thinks he's a standup comedian. His records sound like Johnny Cash and David Cross fighting over who gets to do the coke and who gets to call Ann Coulter a cunt. The great thing is they both usually win. This a guy who stops after the "I killed a man in Reno" line when he covers "Folsom Prison Blues" to blurt, "I just fucking love that part." So as you can imagine, of the five Hamell records I own, 2002's live
Ed's Not Dead--Hamell Comes Alive
, is by far the most entertaining. Without the benefit of so much as a band or electric instruments, the man cranks up his acoustic and propels at least as hard as the Old 97s to sing songs with titles like "I Hate Your Kid" ("He's violent and dumb/just like someone else I know/His father") and "John Lennon," a true story in which he meets his idol at one of Yoko's art exhbitions ("He said 'fuck off'/it sucked to be me/I hit the men's room.") Of course these hilarious nuggets would be nothing without killer riffs to string them together, and he provides. The fastest nonmetal/nonclassical guitar player in recent memory, he underpins "Kid" with triple-time country noodling, "Dead Man's Float" with a stun-gun riff reminiscent of bees swarming, and "The Meeting" with molten slabs of blues-driven distorto-slide, all without the benefit of tone knobs or Line 6 Pods, or even a fuzzbox. It's pretty great stuff, even if you have to be in the mood for his sometimes overly juvenile delivery. Like The Hold Steady's Craig Finn or Art Brut's incandescent Eddie Argos, Hamell's singing voice isn't great, kind of like Black Francis without art school, but he does so much spoken-word that you know the lyrics are the point. He even has a comedy record,
Yap
, available from his website, that I'm dying to hear.
On 1995 debut
Big As Life
, he started out as a typical post-grunge guitar-slinger who just happened to know lots of about Keroauc's prose style, and knew the way to please crowds was to jive about motley characters who rob KFC with a fork or piss off Count Basie and Spike Lee. That style he perfected on 1999's indier
Choochtown
, which mellows the hyperdrive into fun territory. Unusually songful, he gives his strumming room to breathe with a basement band and the occasionally ramshackle country lick. The stories are storier too, with recurring misfits Bobby and Chooch puking and fucking and punching lights out every which way. That record spawned
Ed's Not Dead
, one of the more creative and distinctive live albums released in my lifetime, which doubles as a best-of with definitive versions of "Sugarfree," "Choochtown," and so forth. Almost every song included beats the studio version, which isn't his fault. Garage lo-fi nor Mercury-backed gloss suits him, only the stage can balance his unrelenting force. That's not to say
Choochtown
or
Life
aren't good records. In fact, his live album has a rare mind of its own when it comes to presentation. Even its new songs are definitive, the otherwise unavailable "I Hate Your Kid" and "7 Seas," a thrashing account of all the things he does to make his "ship" come in ("I learned to walk like Marlon Brando in
On The Waterfront
. . .I yo-ho-ho'd and a bottle of rum. . .I bribed Charlie Tuna!") with a surprise ending ("Bingo, ships. . .but
not mine
!") are career toppers. Those are definitely spread out over the career, though: his softest and by a hair least effective record
Tough Love
leads with the pounding "Don't Kill," sung by a pissed-off God whose idiot disciples can't even follow one measly, very specific commandment ("I thought I etched this in stone"), hooked to one of those patented blues riffs and some extra urgent cymbal crashes I don't even think his live act can supplement.
Songs For Parents Who Enjoy Drugs
is his most recent effort, and though it gets there eventually, it's very flawed melodically (the annoying "Hey Boss" and the messy, synth-washed "Apartment #4"), comedically (four lame and unnecessary skits) and sadly, lyrically ("Pretty Colors'" forced rhymes are muy terrible). It also suffers from pandering to his audience of educated liberals with some overly mouthy Bush-bashing that you'll respect in spirit if "Ann Coulter's got one stinky box" isn't too fifth-grade for you. With alot to exempt, I must still urge people to buy it with high points like "Inquiring Minds," a fictional conversation between Hamell and his kid Detroit ("Dad did you ever do anything bad?" "Fuck no!") with a dynamite riff and the third degree about his past trysts and drug use where the moral of the story is "I'm gonna lie/I'm gonna lie/I'm gonna lie." "Civil Disobedience" is almost an anthem, setting punked-out Gandhisms to fists-on-desk "I Want Candy" pounding, and the mischevious "Baba O'Riley"-channelling "Mommy's Not Talking Today" is your one chance in a lifetime to hear label boss and sometime collaborator Ani DiFranco say "nice hooters" with chorale harmonies for full 3D effect. Best of all is "Father's Advice," a dark tale of Hamell's alcoholic grandfather murdering his grandmother and then himself, and how you have to laugh about even that. His sky-ripping falsetto is not be missed over the tense, jerking drum machine. Falsettos and drum machines aren't typical devices for folk/punk heroes, but Hamell On Trial ain't adhering to nobody's definition. But it is typical of punk artists to go all out, or as Hamell would say, "I mean, fuck it, why go halfway?"